Fabric and Design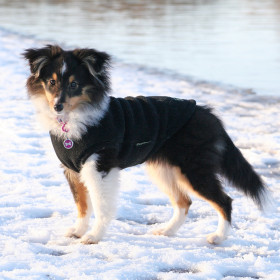 Fabric
Our fleece garments are made of high performance woven polyester fleece of the grade and quality found in advanced technical mountaineering wear. Fleece is undoubtedly the best wicking medium and it is this wicking action which continually blocks rain while still breathing away excess heat and moisture. It's much warmer and more durable than wool and thermal cotton.
All of our fleece wear is machine washable, tumble dries, and won't shrink, stretch or fade. Soft to wear, it's also silent.
Non-absorbent, the fleece doesn't force a wet animal to sit in a damp garment, nor does it absorb smells, so after every wash it's as fresh and friendly as when you bought it.
Design
Our fleecewear is designed to beat the worst of British weather (no mean feat!) and caters for all dogs, tiny terrier to Great Dane, using the incredible versatility of top quality fleece to the maximum, all the while looking for style rather than fashion.
Uses include outdoor wear, rest and recovery for working dogs, winter wear for aged and fine coated dogs, post operative warmth and protection, drying off after hydrotherapy, swimming and exercise in lousy weather, and in the case of the high visibility fleece, aiding accident prevention.
As with all our fleece, when worn next to the skin it both keeps the weather out and allows excess body heat to escape giving the ultimate in comfort to any dog.
Our dog wear is used and recommended by hydrotherapists, vets, dog handlers in both the working and showing world, caring pet owners and shown off by the dogs themselves. Animals which have previously resented clothing welcome the Equafleece garment because it is made primarily with the dog in mind.